Beskrevet med to ord, så er Jungle Parc en stor klatrepark, men i virkeligheden er den meget mere end det. For i Jungle Parc bevæger børn og voksne sig rundt mellem træerne via rebe, svævebaner, broer og meget andet. I op til 10 meters højde!
Jungle Parc ligger i Santa Ponsa i den sydvestlige del af Mallorca. Ved ankomsten kan gæsterne vælge mellem tre baner, nemlig Explorador, Extremo eller Piratas (for børn). Uanset hvilken bane der vælges, så er sikkerheden i top. Det sørger stedets instruktører for, der fortæller hvordan seler, karabinhager m.m. skal anvendes.
Efter grundig instruktion går det løs, og det er rigtigt sjovt! Medmindre man er professionel klatrer, så er der garanti for at adrenalinet vil pumpe i kroppen, og nogle personlige grænser vil blive overskredet. Heldigvis kan man tage turen i sit eget tempo, og undervejs er der ofte to forskellige sværhedsgrader. Bliver det for udfordrende, så er der hele tiden mulighed for hjælp fra de engelsktalende instruktører.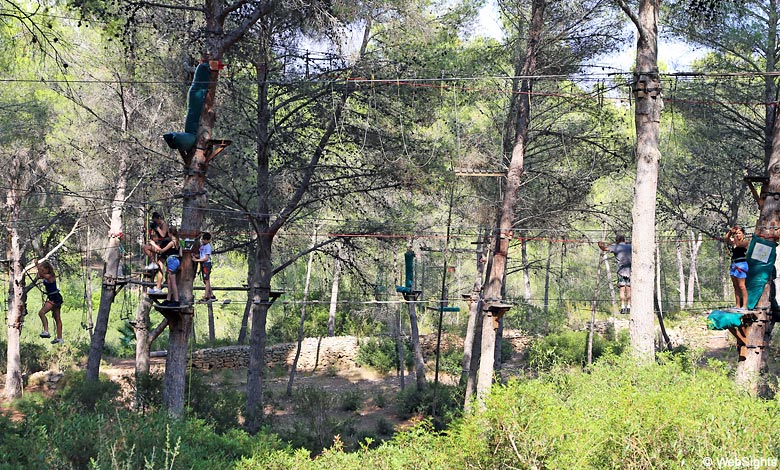 Explorador banen
Dette er standardbanen for voksne uden forudgående erfaring med klatring. Stort set alle kan være med, og der er to niveauer af sværhedsgrader, når de 40 øvelser skal klares i 3 til 10 meters. Øvelserne indeholder bl.a. broer, net, reb, svævebaner og endda en cykel på sidste del af banen.
Extremo banen
Dette er banen for vovehalse, som er i god fysisk form og har erfaring med klatring. De 37 øvelser ligner dem på explorador banen, men de er mere krævende, og der er stor fart på de længste svævebaner, der er over 100 meter lange!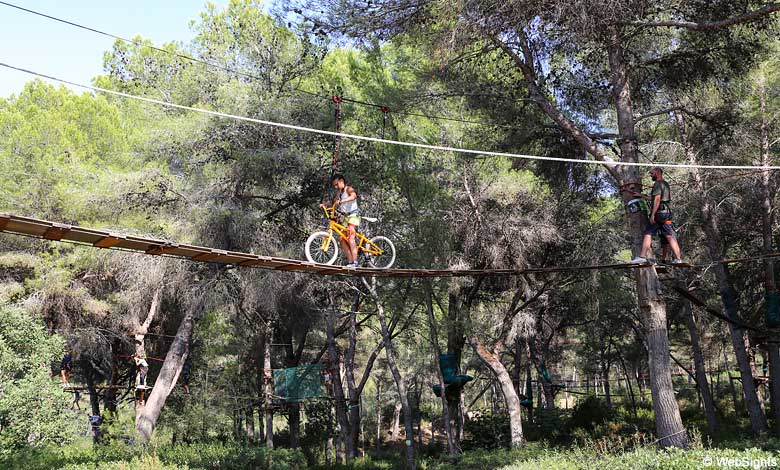 Piratas banen
Piratas banen er for børn i alderen 4 til 12 år. Der er mere end 50 aktiviteter, som er inddelt i 7 ruter af forskellig sværhedsgrad. Aktiviteterne udgøres bl.a. forskellige broer, net, svævebaner og et piratskib. Modsat voksenbanerne, så kan børnene nemt springe en aktivitet over eller prøve samme aktivitet flere gange i træk. Børnene skal hele tiden være under opsyn af en voksen.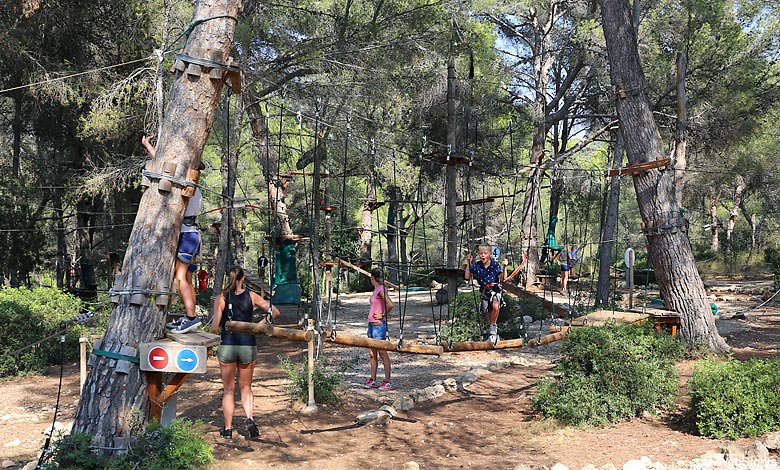 Hvis det kun er børnene, som skal klatre, så er søsterparken Jungle Parc Junior et godt alternativ. Her er der endnu flere sjove og udfordrende baner for børn i alderen 4 til 11 år. Jungle Parc Junior ligger i Bendinat ved Illetas.
Mere information
For mere information om åbningstider og priser henvises til Jungle Parcs website.
Jungle Parc kort
På kortet ses Jungle Parc i nederste venstre hjørne. Den store sandstrand er hovedstranden i Santa Ponsa.