På spansk betyder Cala d'Or den gyldne bugt. Det kommer ikke af ingenting, for den populære ferieby har fem sandstrande, der alle ligger dybt inde i smukke klippebugter.
Cala d'Or er en af Mallorcas pæneste feriebyer, uden at være direkte eksklusiv. Byggestilen er inspireret af Ibiza med fortrinsvis lave og hvidkalkede huse. Især bymidten er rigtig flot med gode udendørs restauranter, spændende is-caféer og interessante butikker. Her er det nemt at tilbringe en hyggelig aften.
Hotellerne er overvejende af rigtig god standard, og flere af dem ligger med udsigt over havet og/eller strandene. Se Sunwebs mange hoteller i Cala d'Or, både til familier og par.
Strandene i Cala d'Or
Cala d'Or har ikke mindre end fem smukke strande, der ligger i hver deres romantiske klippebugt. Den største strand er Cala Gran (billedet nedenfor), der ligger meget centralt i byen. Bagerst på stranden er der plads til boldspil og der er mulighed for nyde/hente forfriskningerne ved caféerne på stranden. Det er muligt at leje vandcykler ved Cala Gran.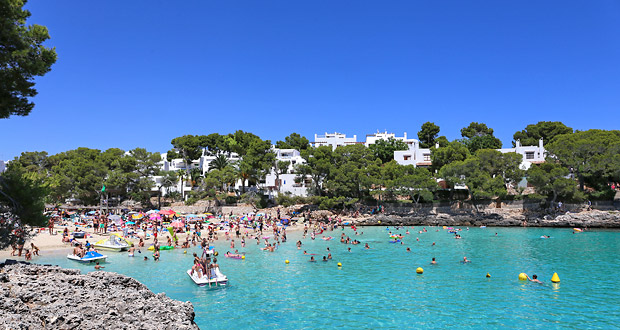 De to næststørste strande er Cala Esmeralda og Cala Ferrera. Af disse er Cala Esmeralda (billede nedenfor) den mest rolige, og på den ene side af vandet ligger der en café med flot udsigt over bugten. Det er også fra denne strand, at det er muligt at komme på en hyggelig bådtur langs kysten.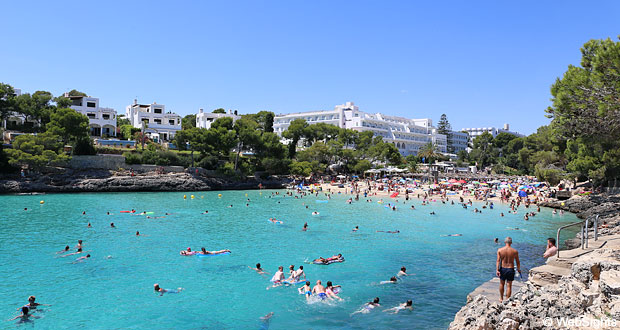 De to sidste strande hedder Cala d'Or (som byen, men kaldes også Cala Petite) og Cala Serena, men de er begge noget mindre. Alle fem strande har fint lyst sand og klart vand med smukke turkise nuancer. Strandene er meget børnevenlige, men pladsen kan være lidt trang i højsæsonen.
Restauranter og natteliv i Cala d'Or
Det vrimler med restauranter i Cala d'Or, og de fleste ligger i den hyggelige bymidte og på marinaen. Det er muligt at få stort set al slags mad, lige fra tapas til pizza og kinesisk. Brugerne på TripAdvisor har vurderet Restaurante Selani som den bedste 'rigtige' restaurant i Cala d'Or, og her serveres hovedsageligt spansk mad – også tapas.
Lidt pudsigt, så er det bedst vurderede spisested i Cala d'Or en isbar! Brugerne på TripAdvisor har nemlig stemt Cala D'ice ind på førstepladsen, og i 2014 blev den tilmed nummer to i en landsdækkende afstemning om Spaniens bedste isbar!
Nattelivet spænder vidt i Cala d'Or. Om aftenen er omdrejningspunktet cocktail-barerne i bymidten, men Cala d'Or har meget mere at byde på. Der er nemlig flere diskoteker, som for eksempel det store Discoteca Farah's med plads til 800 mennesker. Alt i alt er Cala d'Or dog en rolig by, også om aftenen.
Seværdigheder og aktiviteter
Fra Cala d'Or er der mange udflugtsmuligheder, og selvom der går busser, så er det en fordel at leje en bil. Turen kan f.eks. gå til dragegrotterne, der ligger i udkanten af den hyggelige havneby Porto Cristo. Det er Mallorcas største drypstenshuler, og inde i grotterne ligger Europas største underjordiske sø, Llac Martel.
Vil man gerne til en flot naturstrand, så er der mange muligheder for det. Den mest oplagte er Es Trenc, der er Mallorcas mest populære strand. En anden er S'Amarador (billedet) i naturparken Mondrago.
For golfere ligger golfbanen Vall d'Or Golf kun ti kilometer uden for byen.
Se vores Cala d'Or film – og følg vores Youtube kanal
Cala d'Or kort