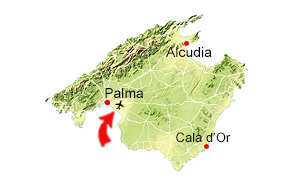 Feriebyen Ca'n Pastilla ligger nogle få kilometer øst for Mallorcas hovedstad, Palma de Mallorca. Afstanden til den internationale lufthavn er kun få kilometer.
Ca'n Pastilla var en af de første feriebyer på Mallorca. Det er dog ikke tydeligt i områderne omkring strandene, hvor der er renoveret meget det seneste årti. Ferielivet er forholdsvis stille i Ca'n Pastilla, også selvom der er mange restauranter, caféer og turistbutikker.
Et af de bedste hoteller i Ca'n Pastilla er det 4-stjernede Hotel Alua Leo. Hotellet ligger kun 150 meter fra stranden, har et stort poolområde og så er der kun 400 meter til Ca'n Pastilla centrum.
Stranden i Ca'n Pastilla
Ca'n Pastilla har to strande, der er fantastiske på hver deres måde.
Mest centralt ligger bystranden Cala Estancia (billedet under). Den ligger godt beskyttet inde i en lille bugt, så det er meget sjældent, at der er bølger. Bag stranden er der flotte høje palmer, restauranter og turistbutikker. En hyggelig og forholdsvis stille strand.
Den største strand er dog Playa Ca'n Pastilla (billedet under). En flot lang og meget bred sandstrand med det fineste lyse sand. Vandet er klart og forholdsvist lavt. Bag stranden er der en dejlig strandpromenade med restauranter, caféer, turistbutikker m.m.
På Playa Ca'n Pastilla er der et stort udvalg af vandsportsaktiviteter.
Restauranter og natteliv
Der er mange restauranter og caféer i Ca'n Pastilla, og de fleste ligger tæt på strandene. Det gælder også for Ricky's Cafe Bistro og La Payesita, der er to af de bedste restauranter i Ca'n Pastilla.
Når aftenen falder på, er der et fint udvalg af caféer og barer. Senere åbner byens få diskoteker, men ellers er der kort afstand til det buldrende natteliv i Palma de Mallorca.
Seværdigheder og aktiviteter
Fra Ca'n Pastilla er der ikke langt til spændende seværdigheder og aktiviteter. Den næsten 800 år gamle katedral Le Seu ligger kun et par kilometer væk, og bag den frister Palma de Mallorcas indbydende gamle bydel.
På den anden side af bugten Playa de Palma ligger den store vandpark Aqualand El Arenal. Her er der nervepirrende fornøjelser for hele familien. En af Mallorcas bedste indendørs aktiviteter ligger også i området, nemlig Palma Aquarium.
Bor man i Ca'n Pastilla, så er det naturligvis også oplagt at tage en tur ind til Palma de Mallorca. En spændende næsten-storby med masser af shopping muligheder og mange gode restauranter.
Ca'n Pastilla kort